– Course of Navdanya For more information and registration email earthuniversity@navdanya.net ; +91 (0) 135-2693025 Bija Vidyapeeth – Earth University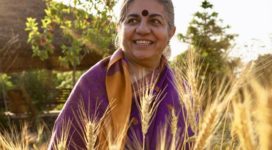 Vandana Shiva is an Indian scholar, environmental activist, food sovereignty advocate, and anti-globalization author. Based in Delhi, Shiva has written more than 20 books. She is a leader and board member of the International Forum on Globalization, and a...
Gardens of Hope: Women, Ecology and the Future of Humanity with Vandana Shiva, Azra Sayeed and Khushi Kabir is live now Posted by Sangat on Wednesday, October 28, 2020 – OBR South Asia, Sangat, Peace Women Across the...