Presentamos un compendio de publicaciones sólidas, indexadas y de calidad garantizada, realizadas por juntas editoriales revisadas por pares, sobre las pruebas científicas de los daños causados por los agrotóxicos a los polinizadores en general y a las abejas melíferas en particular.
La selección de estos artículos corresponde a un esfuerzo colectivo, que incluye reclamos de apicultores/as y organizaciones sociales, así como recomendaciones de investigadores/as.
Los estudios conexos, que abarcan desde los efectos neurotóxicos, cognitivos y reproductivos, los cambios de hábitos y comportamientos, hasta las muertes en gran escala, se obtuvieron mediante búsquedas en red y en bases de datos especializadas, y se reunieron aquí para facilitar la identificación de los daños y las pruebas de los problemas causados a los polinizadores como por el uso de agrotóxicos.
En la recopilación se señala las fuentes de cada artículo y se presenta su resumen, en inglés y español.
Los/las organizadores/as pretenden que éste sea el primero de una serie de pasos, con una continuidad expresada en forma de publicaciones anuales, añadiendo nuevos conocimientos aportados a este campo del conocimiento.
Rossi, E.M; Melgarejo, L; Mendonça Oliveira de Souza, M; Ferrer, G; Talga, D. O; De Oliveira Barcelos, R; Cabaleiro, F. – Abejas & Agrotóxicos: Recopilación sobre las evidencias científicas de los impactos de los agrotóxicos en las Abejas – Petición ante la Relatoría DESCA de la Comisión Interamericana de Derechos Humanos. (En Español). Leer más…

---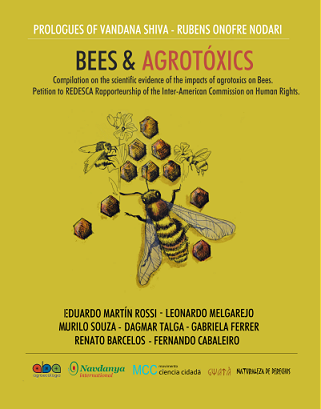 We present a compendium of quality, robust, indexed peer-reviewed articles that provide scientific evidence of the damage made by pesticides to pollinators, particularly, honey bees.
Besides the selection of these contributions, this document was a collective effort that includes demands of beekeepers and social organizations, as well as recommendations by researchers.
Reviewed studies from neurotoxic, cognitive, and reproductive effects to changes in habits and behaviors and large-scale deaths were selected from specialized databases by a network research. This compilation aims to facilitate the identification of damage and evidence of problems caused to pollinators by the use of agrotoxics.
Preface by Dr Vandana Shiva, President of Navdanya International.
Sources of each article are detailed as well as the respective abstracts in English.
Compilers wish this document is the first issue of a series of annual publications regarding the popular analysis of academic contributions to this field of knowledge.
Rossi, E.M; Melgarejo, L; Mendonça Oliveira de Souza, M; Ferrer, G; Talga, D. O; De Oliveira Barcelos, R; Cabaleiro, F. – Compilation on the scientific evidence of the impacts of agrotoxics on bees – Petition to the DESCA Rapporteurship of the Inter-American Commission on Human Rights. (In English). Read more
---
Apresentamos compendio de publicações robustas, indexadas e com qualidade garantida por conselhos editoriais apoiados em sistema de revisão por pares, relativamente a comprovações cientificas de danos causados por agrotóxicos, sobre polinizadores em geral e abelhas melíferas em particular.
A seleção destes artigos corresponde a esforço coletivo, envolvendo demandas de apicultores e organizações sociais, bem como sugestões de pesquisadores.
Os estudos relacionados, que envolvem desde impactos neurotóxicos, cognitivos, reprodutivos, alterações de hábitos e comportamentos, até mortes em larga escala, foram obtidos através de pesquisas na rede e bancos de dados especializados, tendo sido aqui reunidos com vistas a facilitar a identificação de danos e indícios de problemas causados aos polinizadores, pelo uso de agrotóxicos.
O documento aponta as fontes de cada artigo e apresenta seu abstract, em inglês e português.
Os organizadores pretendem que este seja o primeiro de uma série de passos, com continuidade expressa na forma de publicações anuais, agregando novos conhecimentos aportados a este campo do conhecimento.
Rossi, E.M; Melgarejo, L; Souza, M. M. O.; Ferrer, G; Talga, D. O; Barcelos, R. O.; Cabaleiro, F. – Abelhas & Agrotóxicos:  Compilação sobre as evidências científicas dos impactos dos agrotóxicos sobre as abelhas – Petição perante a Relatoria DESCA da Comissão Interamericana de Direitos Humanos. (Em português).  Leia mais