"[…] Navdanya with the National Women's Alliance for Food Sovereignty (Mahila Anna Swaraj) started the Sarson Satyagraha to bring back our pure mustard oil. The first bottle of the Satyagraha Mustard Oil was gifted to the then Chief Minister of Delhi, Sahib Singh Varma. Today we are able to enjoy our mustard oil because of the Sarson Satyagraha of 1998.
Our mustard is once again under threat, this time, from genetic engineering of mustard for sterility and herbicide tolerance by Dr. Deepak Pental of Delhi University. […]" (GMO in my mustard, By Dr Vandana Shiva – The Asian Age, 11 August 2015).
---
Navdanya condemns GEAC decision on GM Mustard – writes to Environment Minister
Press Release
"We can produce more food and safe food without GMOs. Just as Bt cotton got farmers into debt, GM mustard is a recipe for debt, crop failure, genetic contamination of our pure organic mustard, and pollution of our food with the herbicide Glufosinate, a neurotoxin" — Dr Vandana Shiva
New Delhi, 12 May 17: Condemning the Genetic Engineering Approval Committee (GEAC) decision to allow Bayer's herbicide tolerant GM Mustard, Navdanya's founder, Dr Vandana Shiva, scientist and environmentalist has given an all-India call to intensify resistance to GM Mustard and the hijacking of our food by the Poison Cartel of Monsanto and Bayer, MoBay. The GEAC gave a nod to Bayer's Herbicide Tolerant (HT) GM mustard on Thursday despite a case still being heard in the Supreme Court and a commitment to the Court that no decision will be made till the court gives directions. The matter is sub-judice and yet the GEAC has nonetheless gone ahead with the clearance.
It is to note that this is the same GM Mustard of Bayer that GEAC itself rejected in 2002.
In condemning the decision, Dr Shiva said "Bayer/Monsanto are not just hijacking our food through their GMOs. They are hijacking the government, the courts and science. At the same time that GEAC has given approval to GMO mustard, Monsanto is trying to use the courts to attack our patent laws, specially Article 3 J
which specifically excludes patents on seeds, plants and animals. GMOs have the only purpose of collecting royalties through patents. They do not increase yields. They do not control pests. Nor do they control weeds. Instead, they create super-pests and super weeds."
Now that Bayer and Monsanto are merging, Bt Cotton and GMO Mustard potentially have one common owner, together becoming the biggest seeds and chemical conglomerate in the world.
Six months after the Monsanto Tribunal and the People's Assembly –  co-organized by Navdanya – took place in the Hague last October, the Monsanto Tribunal, in releasing their Advisory Opinion, found that Monsanto's practices undermine basic human rights and the right to a healthy environment, the right to food, and the right to health. The judges called for better protective regulations for victims of multinational corporations and that International law should clearly assert the protection of the environment and 'ecocide' as a crime.
Through profit-making patents, Monsanto has already pushed over 310, 000 farmers into debt and suicide and we foresee the devastation of India's biodiversity, health and farmers, and the country's seed and food sovereignty if GM Mustard is approved.
Navdanya has been resisting attempts to destroy Indian Mustard  by starting the Sarson Satyagraha in 1998 when the first Soy Bean Oil massive import started. Over these years Navdanya has initiated yatras (pilgrimages) across the mustard growing states to conserve desi seeds and make the farmers aware of the threats posed by this HT GM Mustard.
Dr. Shiva, in a letter to the Environment Minister Shri Anil Madhav Dave sent on Friday, addressed the issue of fraud in GMO Mustard, DHM – 11, and requested him to take strict action to conserve India's biodiversity and swadeshi sarson seeds.
Dr. Shiva in a statement said, "The GEAC is a compromised body, which works only for corporate interests. We know this decision of the GEAC is made under corporate pressure by Bayer and Monsanto". Every word of their "safety dossier" has the stamp of corporations. In fact a large number of the members of the GEAC have been directly associated with Monsanto/ Bayer biotech lobby groups and now are only serving to promote their corporate interests." She added, "There should be public disclosure on the credentials and personal background of the members to insure integrity and transparency."
"We can produce more food and safe food without GMOs. Just as Bt cotton got farmers into debt, GM mustard is a recipe for debt, crop failure, genetic contamination of our pure organic mustard, and pollution of our food with the herbicide Glufosinate, a neurotoxin."
"Every Indian should join the movement for freedom from the Poison Cartel, their GMOs, and their toxics."
---
Also read:
By Dr Vandana Shiva – Deccan Chronicle, 30 May 2017
By Indra Shekhar Singh – FirstPost, 16 May 2017
By Indra Shekhar Singh – FirstPost, 13 May 2017
Millenium Post, 12 May 2017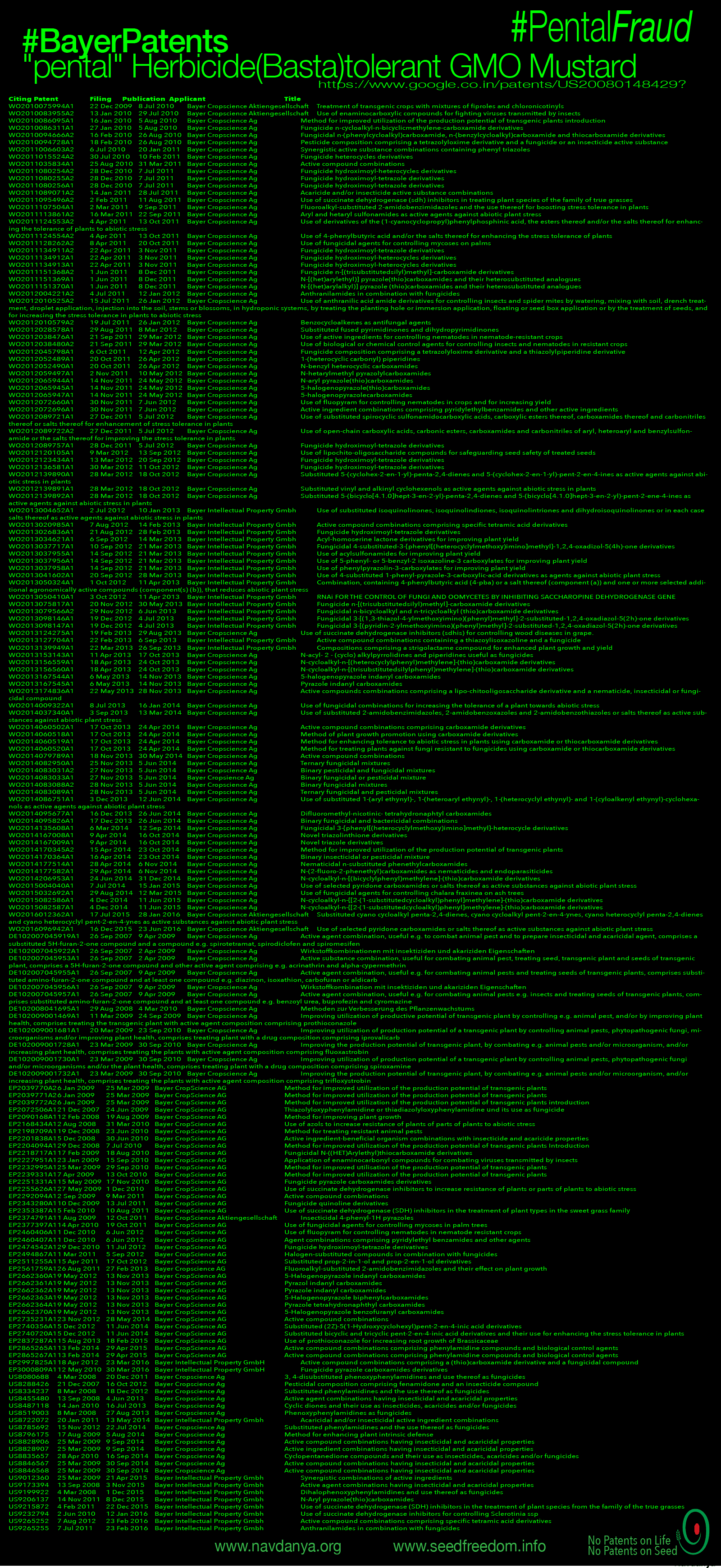 by Dr Vandana Shiva, 17 September 2016
---
Related Campaign
---